Why Arriba?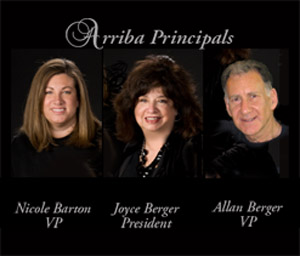 Arriba will team with you to climb mountains. We will embed your organization in its market, give it a well-known and respected name in the community, attract new clients, secure a larger piece of the market, reinforce market presence, or, simply help you make a meaningful speech. You will work only with senior, experienced members of our team.

Since Arriba's inception, in 1990, we have believed in the magic of strategic alliances. We forge partnerships with our clients and become extensions of their organizations. And, we create dream teams with proven partners who expand our capabilities, experience, size and geographic presence.
Our Name. Our Mission.
The name Arriba (Communications) derives from the Spanish word for above, on top of, up, upstairs, and aloft. It represents the Arriba brand of high quality and creativity that supports our clients' efforts to reach the top of their games. It also describes our attitudes. We work to be on top of your deadlines and expected levels of satisfaction. Service, responsiveness, quality and happy customers are our mission, along with communicating persuasively and on point.
You Deal With The Top.
There are no intermediary account executives running messages between you and Arriba's senior creative team. We apply our business acumen and combined years of experience with blue chip companies to your communications challenges, schedules, creative concepts and finished projects. You remain our priority at all times.
Business Acumen.
Arriba is experienced in supporting the introduction of new technologies internally and externally, new division roll-outs, IPOs, joint ventures, divestitures and mergers. We also specialize in internal corporate communications via printed and electronic newsletters, special events and targeted campaigns.
Flexible Company Structure.
Arriba's flexible structure enables it to meet clients' changing needs upon demand. This flexibility consists of principals and affiliates around the country who are experienced and seasoned professional communicators. Our ability to staff up for a particular client's needs enables us to select only the most qualified people for each team. Arriba sources the best available talent where and when needed while also keeping its overhead and billing rate at a minimum. Ultimately, the result of using hand-picked talent is reflected in superior work, cost savings for the client and campaigns based on experience.
Our Clients.
Arriba works with clients both in the private and public sectors. These Arriba clients, most commonly, are part of or marketing to the following market segments:
Environmental Consulting
Engineering
Oil & Gas
Refining, Petrochemicals & Chemicals
High Technology
Healthcare
Professional Services
Transportation
Municipalities
Industrial Companies
Product Development & Manufacturing
Waste Management
Financial Services
Arriba Green Note - Creating Green Communications
"...update your mailing list and save paper..."
In the world of direct marketing, there are many shades of green. A simple activity, such as updating your mailing list, can save money and reduce paper usage. Arriba can help you contact customers to find out their preferred method of communication and remove invalid names and addresses – many may choose to receive information electronically. Remind customers who choose the hard copy mailing list option to route or recycle their direct mail pieces to others in their department.